At school a uniform is required for all activities. Any exception will be announced.
Sobriety and distinction match perfectly. Clothing and haircut will always be decent and never provocative. Make-up and accessories should always be discreet.
Jackets or body warmers must be navy blue and/or white without blatant figures or inscriptions. Trousers or skirts must always be navy blue without white or coloured stripes. Provocative clothing such as too short skirts or dresses, low-cut or too short T-shirts or dresses are not allowed.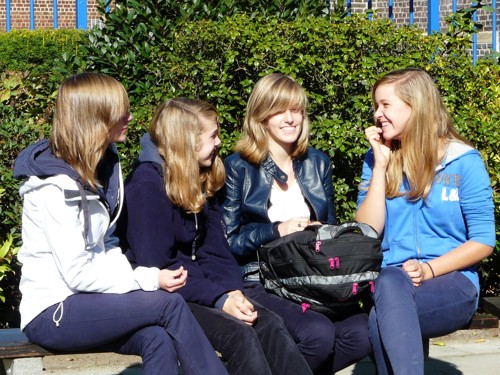 Jeans are not allowed either.
A smart sleeveless blouse is allowed but a top with thin shoulder straps, a bare back or shoulders are definitely not. The minimal length of a skirt or dress should be three quarters of your thigh.
Casual wear such as jogging bottoms, shorts, baggy trousers and slippers are strictly forbidden.
Leggings should be worn under skirts, dresses or long tunics only and must always be navy blue. Scarves, hats and gloves are either blue or white or a combination of both colours.
Inside the school buildings no headgear is worn. For hygienic reasons stockings or socks should be worn in closed shoes. You wear plain shoes, sandals or boots in inconspicuous colours.
Noticeable piercings and tattoos are not allowed either. Piercings (also non-noticeable ones such as piercings in belly buttons) can cause injuries (for instance in physical education).
For physical education you must wear a SFI-T-shirt and SFI-shorts. You wear separate sports shoes or gym shoes with red shoelaces (available at school).
A label with your name on should be affixed in all items needed for physical education. All items for PE should be kept in a gym bag with your name on.
At oral exams and public announcements of the results a decent and correct uniform will do. Suits/woman's suits are certainly not required.